#1: Rum Tum Tugger is a Curious Cat
Or, how I fell in love with a glam rock furry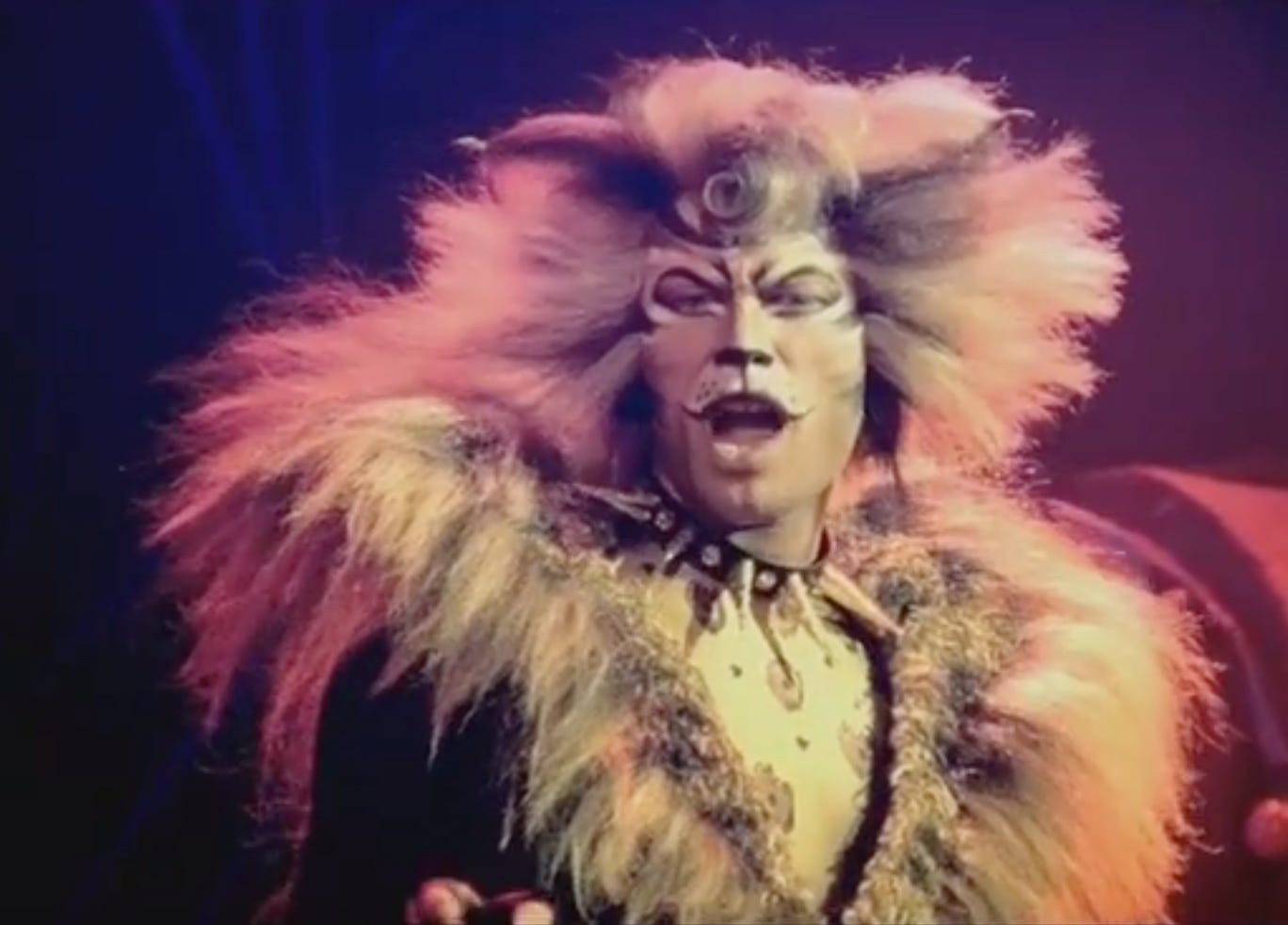 Glam and Fur
Let me put it gently—Rum Tum Tugger mesmerized me. It was an extremely hot summer and one day I happened across a recording of the 1998 film Cats: The Musical. The rockstar anthropomorphic character truly blew my mind: how the hell do you get away with a 1990s horny hair metal furry and not trigger a truly outrageous homosexual awakening? My imagination ran wild with theories.
Maybe I'm a little too old to care about singing and dancing cats, but oh well.
Everyone's been talking about the 2019 Cats trailer. Everyone has their hot takes. Without all the hair and strap-on tails and tight suits, Cats doesn't feel as surreal and campy as it should be. The emphasis on hyper-realism and high-end CGI is killing me.
In the original Andrew Lloyd Webber musical, Rum Tum Tugger is just one of many cats performing in a contest to ascend to the Heaviside Layer, where cats go to get reborn. There isn't a straight-forward plot, but there is a lot of hip gyrating and flying fur. All the kitties are "Jellicle Cats" who must sing and perform to be judged by their leader, Old Deuteronomy. The winner gets to pass on to the next life—to become a sexier, reincarnated version of themselves.
It's like your high school talent show had a ride in the communal guillotine as the prize. 
Rum Tum Tugger is the "rockstar" boy of the Jellicle clan. He wears heavy makeup, a studded belt, a big poofy mane, and a spiked collar. During the chorus performance of the opening song, his costume is toned down but during his solo number, Rum Tum Tugger returns in full party suit. He's loud, flamboyant, and incredibly hard to please.
He shouldn't be your boyfriend, but it's a fun idea, until you remember male cats have very sharp barbed penises.
---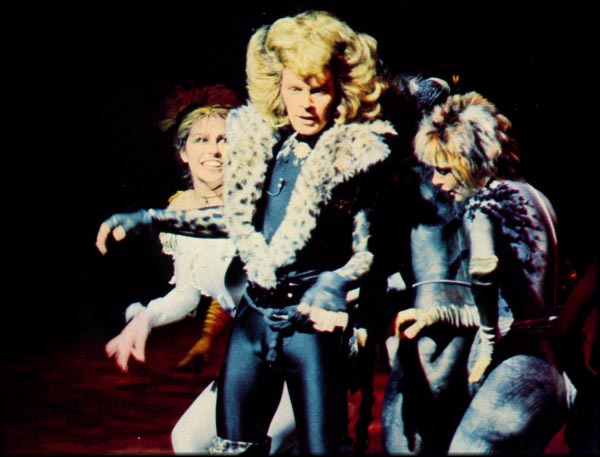 A Cat Is Fine Too
The original casting call describes the Tugger role:
"The rock star.  Should have a strong, raw rock voice, be able to move well, and must have a wild sex appeal - with a sense of humour.  Playing age: 25-30."
If you can imagine, the entire energy of Cats changes once Tugger appears—while things might've been vaguely weird and horny at first, now it's definitely awkward. In the 1998 film version of Cats, Tugger thrusts his hips inches away from one of the female cat's faces, spins round, and keeps singing. People bought this VHS tape for their kids. Sadly, I missed this major developmental milestone.
While there are plenty of ridiculous Jellicle cats, Tugger is the one entirely all about glam and rock 'n roll. He's definitely inspired by the outfits worn by bands like Sweet during the 1970s. International adaptation of Cats have worked around this reference to glam rock, such as the Japanese production drawing inspiration from Visual Kei and Elvis instead. For some reason, the 2014 London revival of Cats re-designed Tugger as a Mick Jagger-esque rockstar who rapped all his lines. It did not go over well. 
But the idea is the same regardless of cultural difference: Tugger is awesome, hot, popular, and you are not.
Tugger is fickle—depending on the adaptation, your mileage will vary greatly. John Partridge's 1998 rendition of Tugger is definitely more boy band material than say, Paul Nicholas' original 1981 Tugger with the meticulously curled perm. In 2008, a Korean production casted singer Daesung from the K-Pop boy group Big Bang to play Tugger. You don't even have to be a furry to like Tugger; he's meant to represent the type of celebrity that gets famous just for sex appeal alone. He is, quite literally, a hype beast of the highest calibre.
In a perfect world, however, fans of Cats have their own ideal version of how the character is played, how he moves, what his voice sounds like. Too much deviation from the norm makes fandom itchy and uncomfortable. After finishing the 1998 movie, I was so sold on the image of a furry glam rockstar it never occurred to me that Tugger really is more of a concept than a character. Sort of how each member of the Village People embodies a gay cultural icon (the cowboy, the sailor, etc.) — in this case, Tugger reminded me of how badly I wanted that sort of adoring attention without any of the backstory. Every Jellicle cat is playing a role and hamming it up as far as they can take it. They're all extremely talented people auditioning for a major role, not unlike A Chorus Line.
You can fill-in the blank with any character from Cats. Plenty of people have theorized Tugger might be bisexual, but there isn't really much to prove it. For shits and giggles, I did a search on Archive of Our Own for Cats fanfiction and of course, Tugger is the second most popular character. People are still writing about Cats and shipping these feisty felines with each other. 
I hate to love Tugger, but it looks like I don't have any other choice. Over the top personality? Check. Giant ham musical number? Check. Big hair? Check. It's almost like I envy him (as a queer person) for being so comfortable with his obvious sexuality.
Yes. Now, let's promise never to talk about this again.
---
Enjoyed this post? Want weekly letters about fictional boys I hate/love?
Sign up for Boy Toy Box below! Tell your friends! Thank-you!